Kiev nightlife and nightclubs for leisure and entertainment
About Kiev Stag Party Entertainment Planner
Fun time in Kiev and all kinds of entertainment activities with Kiev Stag Party Planner is easy to arrange. This company will compile either a package of day-time and night-time activities or offer you individual services for your fun time in Kiev during weekends.

Day-time activities, Kiev Stag Party company offers, will drive more adrenalin into your veins and fill with lots of excitement and joy you might never experience somewhere else but with us!

Night-time activities will agitate your mind and body and will leave the most pleasant and unforgettable imprint in your soul.

Get the fun time of your life in Kiev with Kiev Stag Weekends Party Planner
Address: Bohdana Khmelnytskogo St. 9

Tel: +38 063 233-06-95
KievStagParty:
Monday - Sunday
9:00 - 19:00
(flexible time if arranged beforehand)
Payments by: Visa, Master Card, PayPal
Verdict
Fun, entertainment, adrenalin, joy, beautiful striptease girls and English speaking female guides, bars and clubs crawling - you can get it all and even more in one place only - KievStagParty.com
KIEV CARIBBEAN CLUB
Website: http://caribbean.com.ua/en/
The Scene
Today in club's repertory are pop and rock artists, jazz concerts, theater, Latin dance parties, disco, humorous and dance shows, night parties and many more.
Residents of the club are best Ukrainian dance ballets, famous Dj's and MC. Many popular artists had performances during last years: Boris Gribenshchekov, Andrew Makarevich, Machete, Serebrjanaja Svadba, Aleksey Gorbunov, Mgzavrebi, Skrjabin, Andrew Donalds, Gorod 312, Voskresenie, Tartak, Green Gray and many others.

The club's hall can be transformed for different types of of shows: big wooden dance floor, 3 bars, tables with soft couches and tables with bar-chairs, 3 levels for guests and VIP-halls. Except being cool club, there is a great restaurant proposition, which is on hill level among the best restaurants in Kyiv. Traditional cuisine, burgers, sushi is on the menu. In bar's menu guests may find big variety of drinks from lemonades to cocktails and expensive beverage. All food zone is working from 6p.m. till closing every day.

The club is cooperating with the main ticket sales. It's easy to buy or book tickets for any show over the internet, in the booking offices over the city and right in the club. Many artists prefer a Caribbean club among many other places for shows. And our guests choose it for comfortable and fun rest.
Verdict
Caribbean Club Is one of the oldest clubs in Kyiv. It was opened first at 1998, then in 2013 it was opened once again. The venue was changed after big reconstruction.
Also the idea of the club was renovated. The Today Caribbean Club is a unique place in Kiev. There are concerts and parties every day. Ukrainian and foreign artists prefer, this is the place for its professional scene, illumination and sound.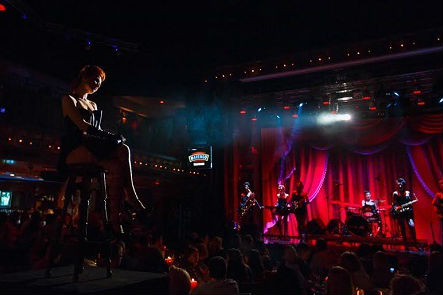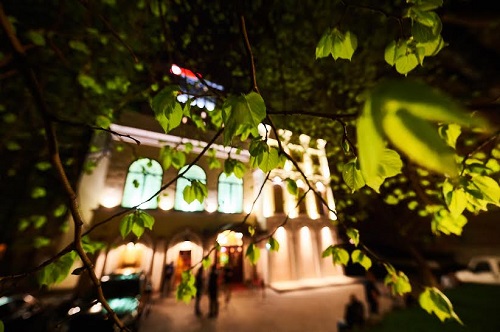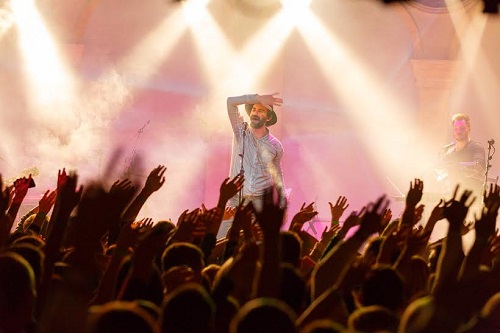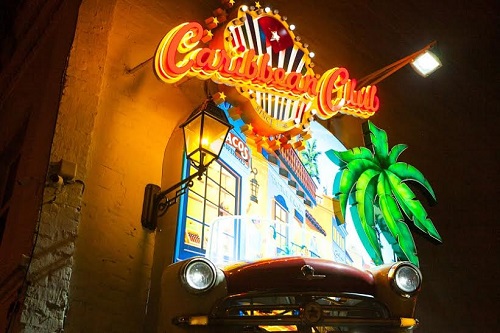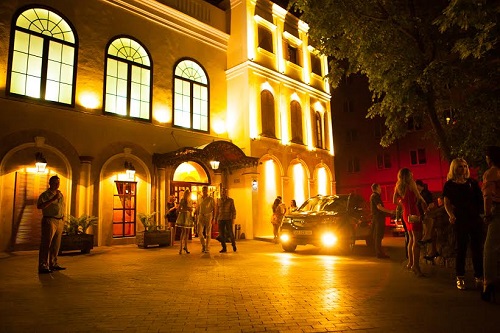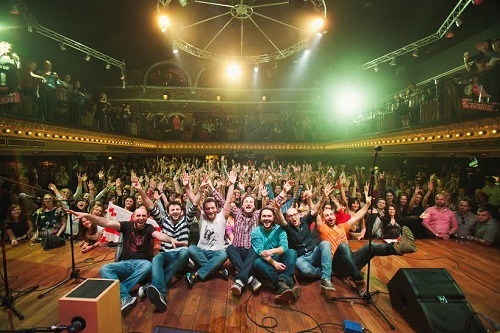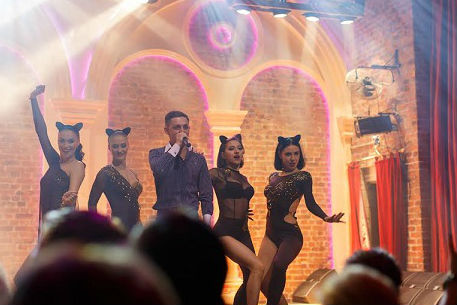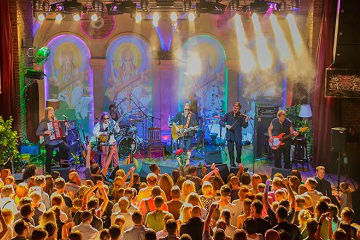 KIEV D'LUX (DINAMO LUX) CLUB
Website: www.dlux.com.ua
The Scene
When it's time to really party, the D*Lux Nightclub will give you an unmatched experience in clubbing. This two-level spacious party domain can comfortable accommodate up to 1000 excited and energetic guests. A super light and sound system penetrates you and lures you into the dimension of rhythm, dance, trance and joy. Live shows and visiting internationally renowned DJs keep the energy level peaked into the daybreak morning. A large dance floor and a comfortable and ample seating area help make the night a pleasant and enjoyable party experience.
Adequate parking is readily available. The entire club complex, accommodating up to 2,000 guests can also be secured for private functions.

Summer terrace-restaurant The Park is a perfect place for meeting, romantic dinner or party with friends. Magnificent view on the Mariinskiy park, birds singing and fresh air fill the summer terrace with the atmosphere of the pure nature, isolating you from the noises of the megalopolis. Delicious dishes with the rich wine list will satisfy even the most demanding gourmet.
Address: 3 Grushevskogo Street
Tel: +38 044 200-29-91
«The Park» Restaurant, Summer Terrace: 12:00 – 6:00 daily
Table Booking: +38 044 200-90-09
D*Lux Lounge Bar: 12:00 - 6.00 daily
D*Lux Nightclub: Thursday - Saturday 22:00 - 06:00
Event: +38 050 381-21-38 Payment: Visa, Master Card
Atmospheres:
Club People
Late Night Scene
Specialty-Cocktails
Show
Dancing
Striptease
Sport Bar
Casino
Admission: $30-$40
Verdict
D'Lux Club is one of the most luxury and classy night clubs in Kiev, Ukraine
ARENA ENTERTAINMENT CENTER
Website: www.arena-kiev.com
The Scene
As far as nightclub venues in Kiev go, Arena which is located in the very center of the city inside the round structure right next to Bessarabski market is the king of clubs. Inside Arena is more architecturally stylish than a watering hole needs to be. Although calling it a watering hole would be like calling Russia a slightly bigger than an average sized country. Arena consists of multiple floors, featuring a Casino, sports bar, sushi restaurant and of course a standard nightclub with a large VIP area.
The large dance floor and sexy dancer girls take a bit of the bite out of the pricey drinks, not that the moneyed clientele seems to mind -- they're just happy to be inside. Mojitos and martinis are the cocktails of choice, and rich new Russian types and local Ukrainian celebrities are usually well-represented in the see-and-be-seen crowd. That should come as no surprise; provided Arena is partially owned by the famous boxers – Klitchko brothers frequently make an appearance at the first floor sports bar.
Follow the stairs in the back of the room and you'll come to the second-floor casino, continuing up the stairs brings you to a restaurant and the final floor contains the large disco area. There is also surprisingly pleasant balcony that overlooks the upscale middle of the large building in which the club is housed. Girls inside range from expensive Kiev prostitutes to normal girls out on the town, making it sometimes difficult to distinguish the two.
Address: 2A Basseinaya Street
Tel: +38 044 492-00-00
Hours: Disco 9pm - last customer
Restaurant: 10am - last customer
Payment: Visa, Master Card
Atmospheres:
Club People, Late Night Scene, Specialty-Cocktails, Show, Dancing, Striptease, Sport, Bar, Casino
Admission: $10
Verdict
Even though Arena has lost some of its prestige since its opening, it is still a recommended visit for any foreigner visiting Kiev for the first time.
DECADENCE HOUSE KIEV CLUB
Website: www.carteblanche.com.ua/en/rest/decadence
The Scene
Depending on your tolerance for trust fund sleaze (we of course do not mean Victor Yushenko's sons famed nights out at this place), slick South American expats, geezed up Russian Oligarchs and husband-hunting lithe young things, you will either flock to Kiev's Decadence House or run screaming.
Defiantly euro-trashy, despite years of evidence to the contrary, Kiev's Decadence house is unabashedly expensive and remorselessly exclusive, especially for girls. So don your Prada and remember there's usually a healthy cover, typically $20 for men (free for women – but very exclusive). Although one may confused a night at Decadence house with a 'model party' please do not get confused, this is just a regular Thursday night at this place.
The door people try hard to keep 'easy women' away, but a few slip in so don't get overly excited if you get a smile from the other side of the dance floor by some blond beauty. Otherwise, Decadence house features excellent food, great bar service, nice booths and fantastic music.
Address: 16 Shota Rustaveli St
Tel: +38 044 206-49-20
Hours: 11am – Last Customer
Payment: All Credit Cards
Atmospheres:
Late Night Scene
Specialty Cocktails
Food
Trendy
Romantic
Beautiful People
Face Control
Live Music

Admission: $20 Men / Free Women
Verdict
Convenient downtown location, great food and music make this a perfect spot for any evening in Kiev both in summer and winter time.
FREEDOM CLUB IN KIEV
Website: www.freedomhall.com.ua
The Scene
Meet Kiev's former A-List darling. Inside this concert hall / casino / restaurant / night club, you'll feel like you're in a pimped out den. Dark red lights accented by diamond necklaces fill the space with a glittery comfort. With a monster dance floor, stage area and mirrors on the ceiling, Freedom decor is both decadent and gaudy at the same time. The bartenders are surprisingly FAST and friendly, so no need to worry if you aren't lucky enough to secure a table reservation. Having a table also allows one to order hookahs with a rather large selection of sweet tobacco.

Make sure to check their weekly events as they typically host a concert or two through the week. Freedom brings in Russian pop heavyweights, ranging from Baskov to Yosif Kobzon. The club also is available for private events and corporate functions so visit their website to make sure your night there is not a bust. The clientele inside consists of everything Kiev has to offer with a wide array of horny students, hipsters, dance lovers, house music enthusiasts and older men who love young women – making it a typical Kiev establishment.
Address: 134 Frunze St
Tel: +38 044 468-4068
Hours: Fri / Sat 8pm - Last Customer
Payment: Visa, Master Card

Atmospheres:
Late Night Scene
Dancing
Live Shows
Famous DJ
Casino
Admission: $8
Verdict
Kiev's Freedom can be a great place if you are looking to catch a Russian concert or a show, otherwise can be a fun time if you are looking for a one stop shop for all of your entertainment needs.
SHOOTERS CLUB IN KIEV
Website: www.shooters.kiev.ua
The Scene
From its state-of-the-art space in the center of Kiev, Shooters provides a music program specializing in various genres of music. Kiev's Shooters is a great place to relax with friends, and becomes a meat market for Kiev after work happy hour scene. It is a haven for mature individuals seeking intelligent nightlife with neither the hassles of large clubs nor the elitism of upscale lounges with too many VIP rooms. Once you are in Shooters, there will be no more ropes, checkpoints, or rules.
Security's goal is to compliment the experience, not to hinder it and they are barely visible here. Shooters has set a new level in Kiev nightlife by going back to basics: great DJs on the planet, fast and entertaining bar service, nice decor, and a fine sound system. The crowd consists primarily of Kiev's young professionals, and Shooter is one of expats favorite places.
One may choose to come here with the intention of meeting someone, relaxing with friends, smoke a water pipe or just get loaded given the reasonable prices for liquor.
Address: 22 Moskovskaya St
Tel: +38 044 254-2024
Hours: 9pm – Last.
Payment: Cash Only
Atmospheres:
Late Night Scene
Specialty Cocktails
Expats
Meat Market
Live Shows
Romantic
Admission: $5
Verdict
Shooters is a breath of fresh air in Kiev's dense nightlife scene, offering a laid back casual nightlife experience with good crowds and well priced drinks.